Size Guide Can Be Seen Below: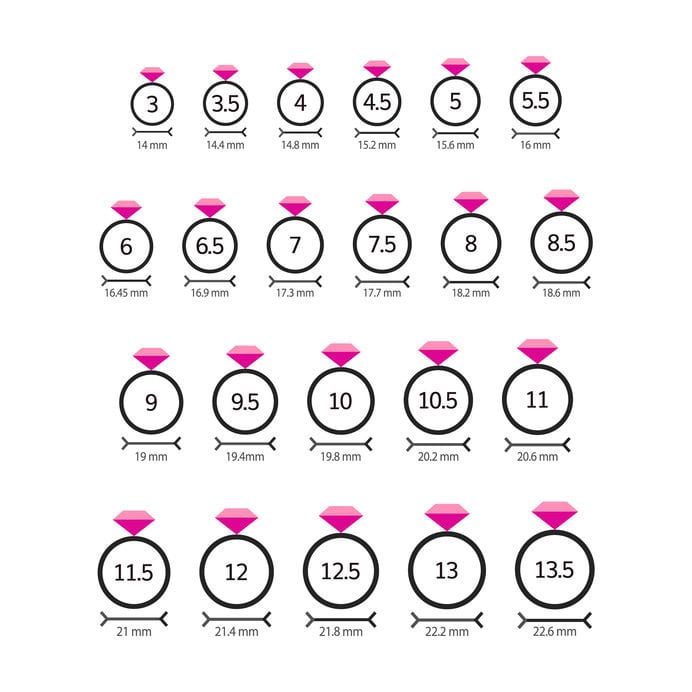 Will it discolour or tarnish?
Every single product we make is hypoallergenic, waterproof and sweatproof. Our pieces will never discolour or tarnish. If they do you are covered by our lifetime warranty.
How can I protect my jewellery?
Your jewellery should be kept dry and stored in the dust bag provided when not used.
Can I wear it in water?
Our pieces are safe to wear in water.
However, in order to ensure your jewellery looks brand new at all times, we recommend taking precautions.
I ordered a pendant. Does it come with a chain?
Yes, your pendant comes with a chain as shown in the product's image.
How do I clean my jewellery?
We don't recommend using jewellery cleaners or abrasive detergents. If your jewellery needs cleaning, use lukewarm water and soap. Dry with a towel.
How does lifetime warranty work?
Every product is subject to strict quality controls. All products are covered by our lifetime warranty that entitles you to a one time, zero cost, replacement should you experience any manufacturing defects.
Just email a photo of the item to our support team at
 thechainden@gmail.com 
along with your order number and we'll process a replacement item for you.
This doesn't include lost items, if you lose any item you purchase contact us and we can provide a one time discount code to use!
No questions asked, no judgement, no fuss.
* Our Lifetime Warranty only covers what we state won't happen, if your Chain Den piece is lost, stolen or damaged via a third-party, we can't cover this. 
 How do I return an item?
For returns and exchanges, please contact us at thechainden@gmail.com